Bewertungen des ILUNION Bilbao Hotel

9.5

Sauberkeit

9.2

Serviceleistungen

9.4

Lage

9.4

Personal

8.5

Preis ab
9.2
Ausgezeichnet
Bewertung basierend auf tatsächlichen Beurteilungen unserer Gäste nach ihrem Aufenthalt.
Bestätigte Bewertungen
Meinungen absenden
Es sind keine Kommentare in Ihrer Sprache. Nachfolgend ist die anderen Kommentare.

Uk

Was given a room on 1st floor overlooking ducting/pipework. Noisy as was between staff service doors

Ireland

We were very happy with the location and standard and value of the this hotel. We especially admire the philosophy of inclusion of staf with disabilities. Bravo. Re protecting the environment and not wasting food it would be a good idea to put jam and honey in small dishes so that clients can help themselves to the right amount and so the little glass bottles and their contents are not wasted. Also a list of TV channels would be useful and please get some in English, the international tourist language. .Some brochures re sites to visit in Bilbao left in Hotel rooms would suit visitors also.

United States

I had a wonderful stay at this hotel and was very thankful for the front desk staff. They were helpful in telling me how to catch the local transportation and even printed out my boarding pass. All around a great experience. I would have liked a few channels on the television in English. that would have made my stay amazing.

Belgium

We stayed for 4 nights in the hotel. The location was good, close to the bus station.The hotel is modern and clean and the breakfast was good. We booked our room directly via the website of the hotel and we asked for a room with two separate beds (we wrote this in Spanish). We got a room on an upper floor with an amazing view but unfortunately with a double bed. We returned to the reception and they gave us another room (109) on the first floor. Two single beds here but a lot of noise during the night. We have been awaken several times at night due to the horrendous bass noise from the neighbouring club and the noise of a washing machine in the laundry room in front of our room. That was a dissappointment. The Housekeeping staff were super friendly and always said hello as you went past. The welcome from reception could be much better.

Holland

heel goed hotel met goede service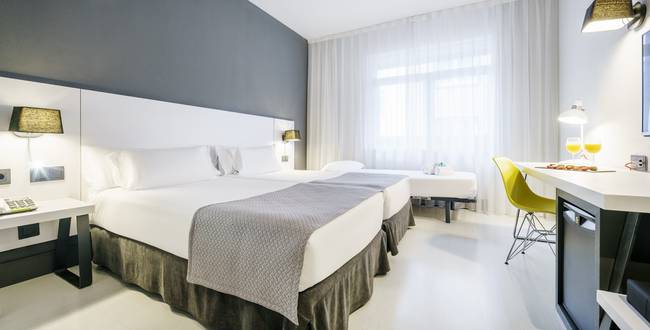 BEWERTUNGEN HOTEL ILUNION IM STADTZENTRUM BILBAO
Erzählen Sie uns von Ihrer Erfahrung im ILUNION Bilbao und helfen Sie uns damit, unseren Service zu verbessern. Mit Ihren Empfehlungen können sich künftige Gäste eine Vorstellung von uns machen, wenn sie ihren Aufenthalt in der kosmopolitischsten und größten Stadt des Baskenlandes planen.