Bewertungen des ILUNION Bilbao Hotel

9.6

Sauberkeit

9.1

Serviceleistungen

9.4

Lage

9.4

Personal

8.5

Preis ab
9.2
Ausgezeichnet
Bewertung basierend auf tatsächlichen Beurteilungen unserer Gäste nach ihrem Aufenthalt.
Bestätigte Bewertungen
Meinungen absenden
Es sind keine Kommentare in Ihrer Sprache. Nachfolgend ist die anderen Kommentare.

Germany

Exellent staff & service.Also it was very nice ,that i could cancel a part of my order without problems.

Belgium

Nice, clean room with a view over the city. Kind staff. Calm neighbourhoud.

Uk

Was given a room on 1st floor overlooking ducting/pipework. Noisy as was between staff service doors

Ireland

We were very happy with the location and standard and value of the this hotel. We especially admire the philosophy of inclusion of staf with disabilities. Bravo. Re protecting the environment and not wasting food it would be a good idea to put jam and honey in small dishes so that clients can help themselves to the right amount and so the little glass bottles and their contents are not wasted. Also a list of TV channels would be useful and please get some in English, the international tourist language. .Some brochures re sites to visit in Bilbao left in Hotel rooms would suit visitors also.

United States

I had a wonderful stay at this hotel and was very thankful for the front desk staff. They were helpful in telling me how to catch the local transportation and even printed out my boarding pass. All around a great experience. I would have liked a few channels on the television in English. that would have made my stay amazing.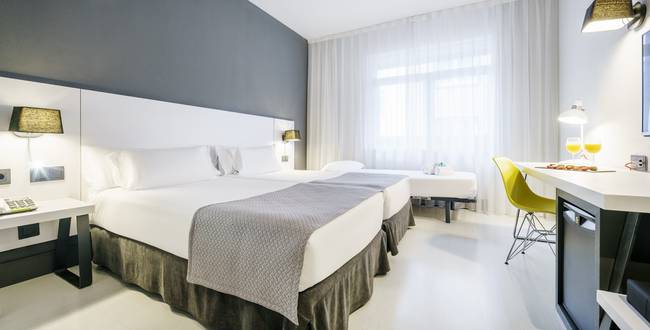 BEWERTUNGEN HOTEL ILUNION IM STADTZENTRUM BILBAO
Erzählen Sie uns von Ihrer Erfahrung im ILUNION Bilbao und helfen Sie uns damit, unseren Service zu verbessern. Mit Ihren Empfehlungen können sich künftige Gäste eine Vorstellung von uns machen, wenn sie ihren Aufenthalt in der kosmopolitischsten und größten Stadt des Baskenlandes planen.